1300 598 425
1300 598 425
COMMUNITY NURSING
Our Nursing team provides community-based medical aid, nursing care, treatment and support focused on delivering a service that is crafted around each individual's choices.
Recognizing that each person with a disability has unique needs, we offer services that aim to provide an array of support options to help them make the best decision.
Breaking Barriers Disability Service provides specialist nursing care relating to each individual's disability, our registered nurses will provide training to you, someone else or a support worker to undertake supports like medication prompting and simple wound care and assess what services and level of support you need.
The community care service we offer includes public health nurses, home help, personal assistance, psychological service, speech and language therapy, occupational therapy, social work service, physiotherapy, daycare and respite.
People with disabilities do best when they live in homes that are designed for their unique interests and needs.
Shared Living creates new and enduring relationships that provide an ideal foundation for learning, encouraging self-esteem, and fostering interdependence.
Our Daily Task Shared Living service provides people living with disabilities the opportunity to grow, learn, and pursue their goals in a family environment. It offers support, assistance, companionship and provides them with the opportunity to live more independently and participate meaningfully in family and community life.
Our Shared Living relationship is handled with the utmost care and consideration and aimed at developing strong, supportive, and lasting relationships between clients and providers.
ASSIST PERSONAL ACTIVITIES
Assist Personal Activities
This is an individualized service (for both adults and children) where Breaking Barriers Disability Services Workers assist you to complete daily activities that are relevant to your individual needs and support requirements.
Personal Activities High
Assistance with daily personal and high intensity daily personal activities. Assistance from a live-in carer, specialized home-based assistance for a child, personal care.
ASSIST LIFE STAGE TRANSITION
We recognize the importance of choice and control in the life of people with a disability and their families,  at Breaking Barriers Disability Service we work with these people to identify their priorities and desired approach for service delivery.
Our Assistance with life stages transition service includes working with clients and their families to prepare schedules for daily, weekly and longer‐term support and assisting them at all stages in the achievement of their goals.
Our staff is professional and well experienced in providing high quality, meaningful support and services for each participant and their family. Our service strengthens client's abilities to participate in daily living and community activities.
The Life Stage Transition service includes short and long-term supports that focus on strengthening the participant's ability to coordinate their supports, and to assist them to live at home and participate in their community.
Our Assist Life Stage Transition services include:
 Establish supportive networks in a client's community circle

 Financial/budgeting mentoring

 Life planning and goal planning

  Medication support and prompts

 Attending appointments

  Assistance coordinating supports

 Developing independent self-care and Capacity building skills
PARTICIPATE COMMUNITY
We understand the importance and need for our clients to take part actively in their community social and civic activities so as to live life meaningfully.
Understanding the importance of natural supports, individuality, respect, and choice, we encourage people to build relationships, actively participate in the community, and pursue their goals.
At Breaking Barriers Disability Service, we understand the importance of natural support, individuality,respect and choice and that is why we don't just encourage our client's build relationships by participating in community activities, we also support them through these activities, and help them pursue their goals.
Our Innovative community participation service has led to improved well-being outcomes for our client's and their carers (in relation to health, employment, education, income and life satisfaction outcomes).
Our Community Participate Service  includes
 Community access:
Helping clients move around their community by going with them from one point to another on public transport.
 Social activities:
Helping clients try new things or continue existing activities whilst making friends – from hobbies, recreation, leisure, sports and arts to community programs like gardening or volunteering.
  Appointments
Getting clients to and from medical appointments, school or job appointments.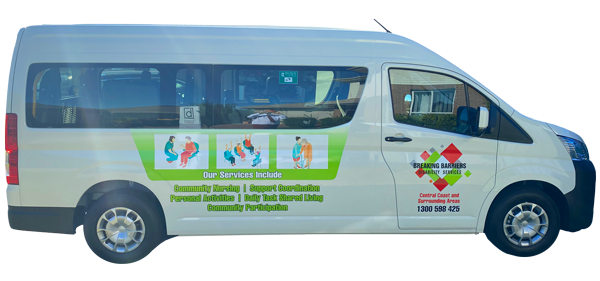 Making accessibility for the differently able
Making accessibility for the differently able